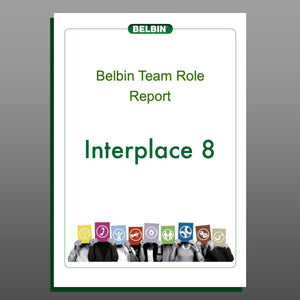 Belbin® Team Role reports are a valuable tool for evaluating an individual's collaborative strengths and weaknesses. The reports offer useful advice to enable individuals to form productive working relationships. The reports also help to select and develop high-performing teams, raise self-awareness and increase personal effectiveness.
To receive a Team Role report, an individual first completes a self-assessment. That person then invites four to six of their colleagues or coworkers to complete an observer assessment. The results of the self-assessment and observer assessment are compiled into a final report. The report summarizes the results of the ratings and provides guidelines for interpretation.
Interplace 8 Reports: 
After submitting an order, please allow up to 2 business days to start your report(s).  You will receive instructions via email.
Once you start your report, you will be able to log into the site at any time to check progress.  You will need to send reminders yourself if individuals or their observers do not complete the assessments right away. 
Note: You need at least four Observer Assessments to generate your Report. 
Note: These are the newest Belbin reports – if you have previously used Belbin, this new Interplace 8 system works a little differently. Please contact us for more information, or if you need help along the way with processing or implementation.