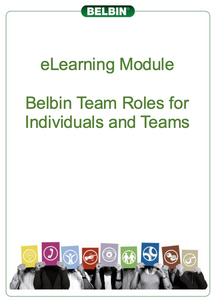 The 
Belbin Team Roles for Individuals and Teams
 eLearning module is a vital tool for helping you to apply the knowledge you learn from your Belbin Report, to make you a more effective team member and leader. 
In this eLearning module, you will learn about Belbin Team Roles and how they can help to improve individual and team performance. You will be introduced to concepts that will allow you to better understand the content of your individual Belbin Report and the process of Team Mapping.
This virtual one-hour presentation will:
Show you how to read your Belbin Report
Explain the nine Belbin Team Roles 
Help you learn about your strengths and weaknesses
It will explore:
Team mapping: the process of compiling information from individual team member's Belbin Reports to create an overview of how a team is working together
Where teams may be unbalanced and the team dynamics that can occur as a result

Speed up your learning, so you can use what you learn more quickly

How to better operationalize Belbin Team Roles and improve team effectiveness and results
SHRM PDC Credit = 1.0. The activity code will be provided upon completion of the module. 
Please note the purchase of a Belbin report is required for this module.